Hello Music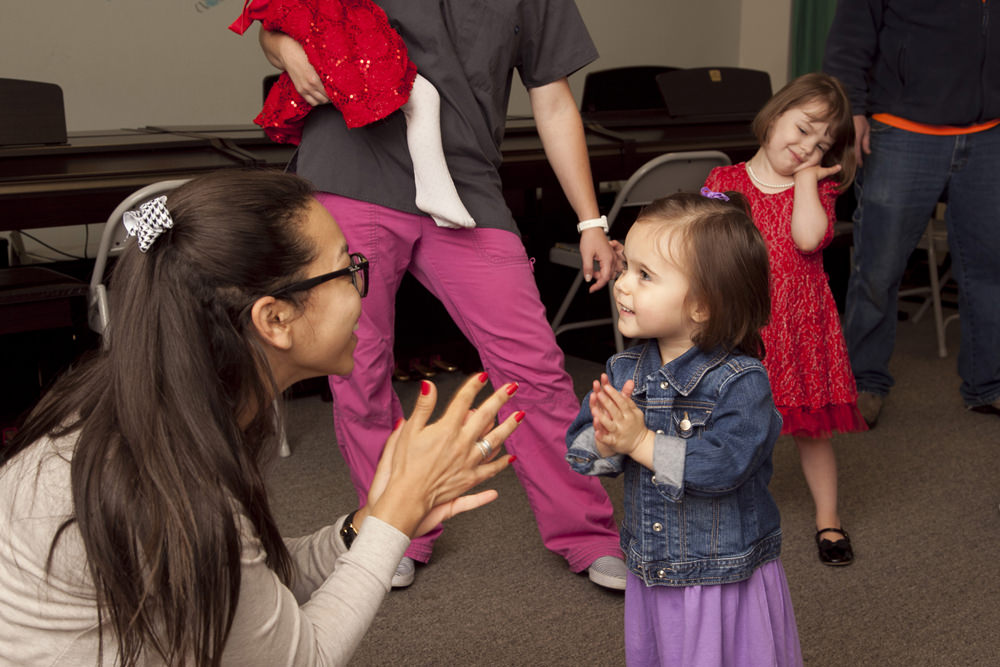 Age Range: 3 -4 years
Course Length: 4 week sessions
The Hello Music course is an introductory class for three and four-year-olds who are new to the Harmony Road Music Course. It is offered in four 45 minute sessions. It can also serve as a continuing program for children who have attended the Toddler Tunes
classes.
This program is the perfect mix of activities for active three and four-year-olds. Hello Music includes movement, rhythmic activities, singing (words and solfege), hands-on use of manipulatives, (hoops, balls, streamers,) and small percussion instruments, orientation to keyboard geography and fun playing activities.
Children explore and experience basic musical concepts such as high and low – first with body movement and singing – then with a tactile experience using large note magnets on a magnetic board.
Simple solfege singing (DO, RE, MI) is introduced to feel stepping up and stepping down patterns. Solfege confirms pitch patterns which will be readily absorbed by the young child. Children feel, move, sing, and store melodic patterns from songs and by copy games. With adequate repetition – this patterning will be stored in the brain synapses and inner pitch hearing will become a part of the child's musical vocabulary.
Finger games prepare a "soft" hand shape and children become aware of finger numbers.
Combining these activities with singing and tactile experiences provide a natural and enjoyable vehicle to explore patterning with the fingers.
Large body movement helps the child develop "pulse" and a feeling for a variety of musical meters and styles. Children use their bodies to feel phrases, musical expression and dynamics.
Parents are actively involved and guided to share musical activities with their child in class and at home. Grandparents and other family members may also be involved and the motivating songs in Hello Music are fun for both children and adults. From Papa Haydn's Band to The Gallant Ship – children and parents enjoy making music together!
At the conclusion of Hello Music, teachers and parents will have a good feel for the child's emotional, social, and musical participation skills. The teacher can recommend the next step which would be most appropriate and beneficial for each child.
Audio Sample